multiuser support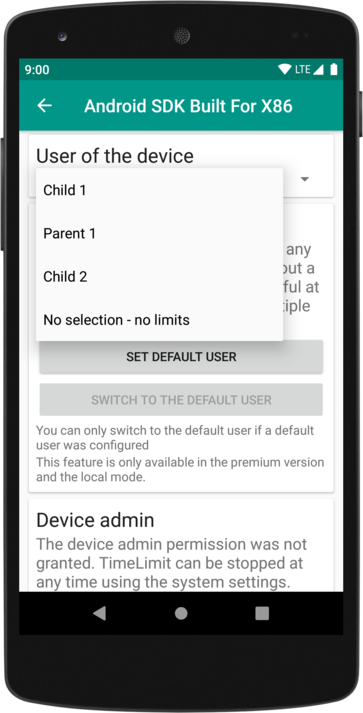 TimeLimit supports multiple users. This allow different time budgets for different users at the same device (e.g. a tablet). When a default user and passwords for the child users are set, then the children can sign in and out at the device themselves.
In the connected mode with the premium version, it is possible to set a time limit for multiple devices where the child can chose how much time it uses at which device.
flexible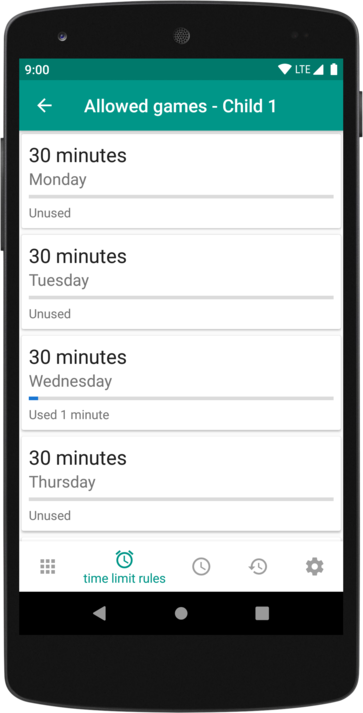 It is possible to configure very exactly when and how much something may be used. It is e.g. possible to limit playing at the weekend or to block games starting 6 o clock pm. It's possible to set different restrictions for different Apps.
If you're using the local mode or the premium version, then you can set an extra time as bonus. Moreover, there is the possibility to disable all time limits temporarily.
no surveillance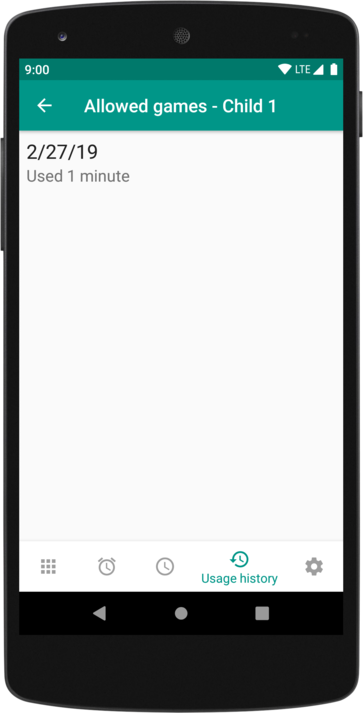 TimeLimit does not create a detailed protocol. When using the local mode, all data is kept at your device and is not transmitted. If you are using the connected mode, then the data is sent to the server you have chosen. You can use the default server from TimeLimit or - for more control of your data - install the server part at your own server.
Moreover, you can see exactly how TimeLimit works and what it does (not) do. You can find the source code of the Client here.
Plans
extra time which can be split by the child
time limits can be disabled temporarily
completly free
settings can be changed from every device
completly free
extra time which can be split up by the child freely
time limits can be disabled temporarily
settings can be changed from every device
Usage time of multiple devices (smartphone and tablet) is added up; Child can select itself a device for using the time contingent
children (and parents) can sign in and out at devices which don't have a single user
14 days for free when using the connected mode; after that an automatically downgrade to the basic connected mode
purchase is valid for all devices in your family
0,99 € per month or 9,99 € per year in Germany
The selection of the version happens during the setup of the App. Android and Google Play are trademarks of Google LLC.
Support
The limits don't work
Was the device assigned to a child? Is the currently used App shown in the notification area by TimeLimit? Does TimeLimit show that a permission is missing? Some smartphones have got power saving features which terminate Apps running in the background (like TimeLimit) or prevent the autostart. You can find informations about the power saving features at https://dontkillmyapp.com/. If you disabled thee optimizations for TimeLimit, then you should not allow accessing this configuration Apps.
Which Apps should I (not) allow?
After setup, some Apps are added automatically to the allowed Apps. Depending on the device, more Apps must be allowed to use some features like telephony. You can check that by trying to use these features and adding the required features to the allowed Apps at the lockscreen of TimeLimit.
You should not allow preinstalled Task-Managers, system boosters, ... because they could allow killing TimeLimit. If such Apps were downloaded later, they are not a problem because they have got lesser permissions then preinstalled Apps.
Allowing to access the system settings is no problem in most cases.
TimeLimit crashes
Send a crash report if you are asked for it and please send a message to the support where you tell what you did to trigger the crash.
TimeLimit shows "Idle"
This is often caused by older phones, which wrongly report that the usage stats access was granted.
Open the device entry in TimeLimit, tap on "usage stats access" and enable TimeLimit in the list.
How can I buy the premium version?
Regular in app purchases are used. You can use any payment method which is supported there. If you don't want to enter your payment method, you can use a Google Play gift card. These are available at many stores.
How can I ensure that my child does not get around TimeLimit?
To detect if your child circumvents TimeLimit, you can enable the device admin permission. To circumvent TimeLimit, it's required to disable this permission and this disabling is logged by TimeLimit.
Another technique is to create a new system user or use the guest mode. You can prevent this by deleting the guest account, creating a new account for the child and setting a password for the primary account.
It is better if your child agrees with TimeLimit and the chosen rules. If this is not the case, get in touch with the support.
My settings are not saved
To change settings in the connected mode, you need at least the app version 0.4.0. You can change settings with older versions, but the server does not accept this changes anymore. Due to that, the setting changes are reverted. Receiving configuration changes and sending usage durations still works with older versions.
How can I uninstall TimeLimit?
Open TimeLimit and select the tab "uninstall". Confirm that you want to uninstall TimeLimit. Then, TimeLimit is disabled and you can remove it.
I need help
If this site did not help you, send a message to support@timelimit.io.
Links